I have been busy with various crafty bits here.  Today I decided to make a quick pop up thread catcher.  I have seen them a couple of times on Chris's blog UK City Crafter and after crocheting all those squares together for my blanket I have got fed up with all the yarn ends lying around and ending up all over the place, usually attached to me somewhere!  I used this tutorial Chris recommended on YouTube.
I like the way it folds down and still keeps the thread safe inside!  Thanks Chris, I love it 🙂
My PJ cases are coming on slowly, I have just started embroidering onto the aprons, it has been very relaxing to sit and embroider again.  The design I am using is one I embroidered on a pram quilt when I was expecting Abi.
Just a little peep for today, I hope to do a proper post when they are all finished.
I have made a good start on Abi's stocking pressie, in fact I finished it but the yarn I used was thinner and I wasn't happy with it so I am about a third of the way through the second edition.  I am a lot happier with it this time.
I have some yarny plans for Josh's stocking present this month.  I hope to KNIT him 3 budgies in colours similar to ours and sit them on a hoop similar to this.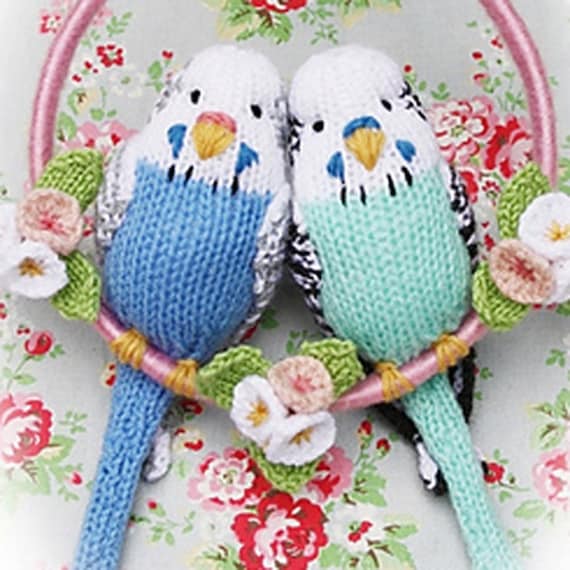 I have downloaded the pattern for the above budgies from Etsy. I had pinned several crochet budgies but I just didn't like them as much as these.  I then considered making my design but in the end I thought it was about time I stopped avoiding knitting and used the pattern I like.
I shall start with Tookey as he is completely yellow and then move on to the others.
While on the subject of the budiges, there has been a lot of excitement in our house, Tookey (yellow) and Pippin (yellow and green) have been mating.  Tookey has been busy in the nesting box preparing to lay.  We are really hoping she will lay some eggs in the next few days! 🙂
That's about all for now, off to puzzle a bit more over how to do my blanket border!
Happy Crafting!!
Sharon xx
I love to hear from you, so please feel free to like or leave a comment.  I always try to reply as soon as possible. x